Bradford County, Pennsylvania was formed from Lycoming and Luzerne counties in 1810 as Ontario County but when the state legislature authorized a county government they named the new jurisdiction after William Bradford, who had been a chief justice of the Pennsylvania Supreme Court and United States Attorney General. The map below shows the 10 original townships. A dotted line shows which part of Bradford County came from Lycoming County and which part came from Luzerene County. Today, the southern border is shared with Sullivan County.
Unfortunately, this map doesn't identify where people were living at the time. it is still useful for understanding how the county changed over time.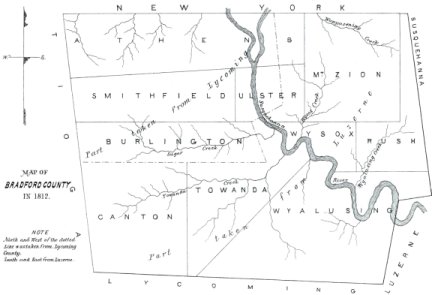 History of Bradford County, Pennsylvania with Illustrations and Biographical Sketches of Some of its Prominent Men and Pioneers
Author: Reverand David D. Craft • Publisher: L. H. Everts & Co., Philadelphia 1878.